Help page for Insignia web
Help page for Insignia web.
To reach us with any query or proposal please use: ais@enaire.es
News
Version 3.4 (September 12, 2023)
SEARCH Box: Allows the user to enter coordinates in AIP format.
EDITING Tool: AIP and decimal degrees (DD) formats are enabled to facilitate the exchange of coordinates between tools within the same application and also between ENAIRE applications (Insignia, Insignia VFR, Drones and Planea).
INFORMATION Box: UTM projected coordinates can be selected in zones 29N, 30N and 31N. Additionally, decimals are added to the seconds in 'degrees, minutes and seconds' (DMS) notation.
NOTAM tool: The 'Not contain' operator is added to the list of operators available in 'Number', 'Content' and 'Aerodrome' filters.
Version 3.3 (February 7, 2023)
Export and import of graphics: coordinates format in WGS84 (latitude, longitude in decimal degrees, separated by commas, negative sign for west direction and point for decimal places).
New button which allows users to display a coordinates list of selected graphics.
Export and import of graphics in JSON and GeoJSON formats.
Version 3.2 (April 5, 2022)
Layer reorganization. It allows you to control its Transparency and Move up/Move down.
Version 3 (January 13, 2022)
Tool grouping.
Add Data new widget: Allows you to add data to the map by entering URLs, or uploading local files.
Measurement distance and direction new widget: Allows you to measure distances and angle references.
Separate Airspaces layer. It allows you to control its Transparency and Move up/Move down.
Version 2.6 (October 07, 2021)
Tool grouping.
Tool filter improvements.
Flight level filter tool improvements.
New warning volcanic ash tool.
Version 2.5 (June 29, 2021)
Improvements on the graphical representation of NOTAM including certain Runway (RWY) and Taxiway (TWY) NOTAM.
Filter NOTAM by aerodrome.
Improvements on the NOTAM radius used on graphical representation, now more accurate to the description of E field.
Version 2.4 (July 27, 2020)
Usability improvements on the 'Draw Circle by radius and point' tool
Usability improvements on the 'Draw Line by heading and distance' tool
Version 2.3 (May 27, 2020)
More options to filter NOTAM
New option to create a Buffer from an existing drawing
Version 2.2 (February 26, 2020)
New layer order display.
New layers of aeronautical easement and natural protected areas.
Simbology adapted to the AIP SPAIN (item GEN 2.3)
Fix of detected flight level filter (match between numerical and graphical scale).
Fix of detected print issues (force scale availability).
NOTAM presentation adjustements.
version 2.0 (september 26, 2019)
The aeronautical information presented on Insignia comes from the Spanish AIP by ENAIRE in force (INSIGNIA VIGOR) or from the latest AIRAC publication (INSIGNIA AIRAC) dependent on the user-selected configuration.
The AIP is regularly updated every 28 days following the AIRAC cycle. The dates when the data and maps are updated are published on AIP section AIP -> GEN -> GEN 3 -> GEN 3.1 bullet 4 "REGULATED AIRAC PUBLICATION SYSTEM"
The information available in Insignia corresponds to the amendment which name is displayed on the lower left corner of the window. By default the amendment in force.

To display the information from the latest published AIRAC, still not into force, the option AIRAC has to be selected on the drop down menu. When AIRAC information is being displayed, the insignia user interface changes to green color.


NOTAM information can also be displayed. This is dynamic information and can change at any time. The complete NOTAM information can be found at ICARO system
Insignia is a graphical and interactive map representation of the Aeronautical Information available in AIS database.
To access the system it is necessary to accept the legal notice, the privacy policy and personal data protection and the Cookie Policy at the welcome window.
The main viewer screen contains, in the upper left, a SEARCH box:
This box allows the users to search for locations or entities on the map, based on names, addresses and coordinates. Search by coordinates can be carried out using the following notations:
Degrees Minutes Seconds (DMS). Example: 37°11'4.6976"N 4°56'15.3017"W
Degrees Decimal Minutes (DDM). Example: 38°40.2752'N 6°27.2174'W
Decimal Degrees (DD). Examples: 40.0022°N 0.4304°W, 40.0022 -0.4304
AIP Format. Latitude in ggmmssN/S format and longitude in gggmmssW/E format, separated by a space. Example: 401738.6407N 0034325.4387W
On the left side of the viewer screen there is a toolbar with several tools accessible by icons:
THEMATIC MAPS: Where predefined maps can be found.
LAYERS: Can be used to individually select the aeronautical features types to show in the map.
FILTERS: Used to restrict the elements to be shown on the map for a selected set of aeronautical features types.
NOTAM: Used to display the NOTAM information obtained from ICARO.
FLIGHT LEVEL: Used to filter the aeronautical features based on their elevation.
BASEMAP GALLERY: Can be used to change the topography background base map.
EDITOR: Using the editor a number of graphical elements can be drawn on the map.
MEASUREMENT: Can be used to measure distances and areas.
PRINT: Can be used to obtain a representation of the map is jpg or pdf formats.
LEGEND: Displays a table with the symbols used on the map and their meaning.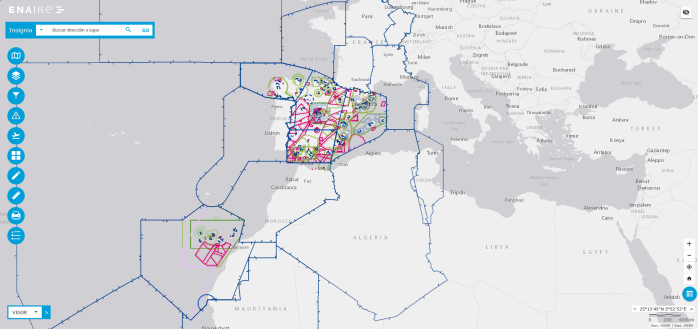 On the lower part of the window there are available buttons to act on: the map zoom level, to go to current GPS location, to go to the initial map extent, to display certain feature types in a tabular format, the mouse coordinate and the scale:
By clicking on any point in the map a pop up window is displayed with information on the identified features.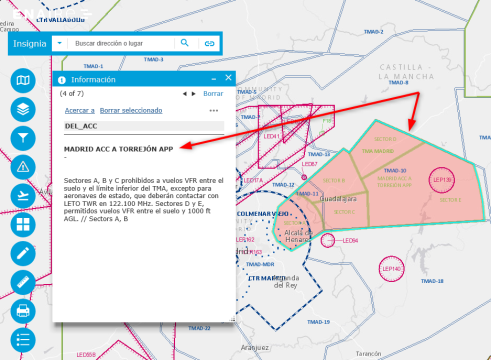 Cycling over the list of the selected features is possible by using the arrows at the upper left corner of the pop up window.